Jeff Claborn D.V.M.
Dr. Claborn is a 1988 graduate of Iowa State University College of Veterinary Medicine. He has served the Columbus and surrounding areas for over 24 years. Drs. Claborn and Jack Anderson started the practice in 1995. In 1996 Dr. Claborn became the sole owner of TRVC. Dr. Claborn enjoys seeing dog and cat patients in the office and running calls in the country for livestock. After several hours of working in an office, it is good to get in the truck and drive to perform physical labor. When not treating animals, you can find Dr. Claborn spending time with family and friends. You can find him with a fishing pole in his hands or watching a rodeo every chance he gets.
Paula Lueschen – Office Manager
Paula has been with TWIN RIVERS VET CLINIC for over 12 years. She has total of over 17 years in the veterinary field and is always happy to answer any questions or address any concerns about your pet. Paula lives in Duncan with her husband, two cats and one dog. She also has two grown sons.

Barb Johnson – Licensed Veterinary Technician
Barb has worked at TWIN RIVERS VET CLINIC for over 8 years, with one year off for deployment to Iraq. She is a 2004 Northeast Community College Veterinary Technician program graduate. She enjoys working with all animals large and small. When not at work she enjoys spending time with her family.
Laura Huettner –Licensed Veterinary Technician
Laura joined TWIN RIVERS VET CLINIC in May of 2012. She graduated in May 2012 with a degree in Veterinary Technology from Northeast Community College. She enjoys riding horses and hanging out with her friends. She lives on a farm near Leigh.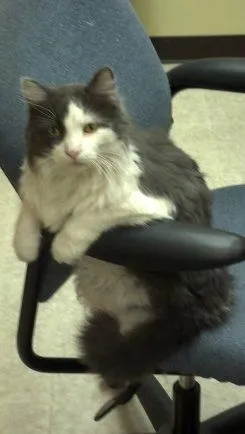 Oliver "Assistant Office Manager"